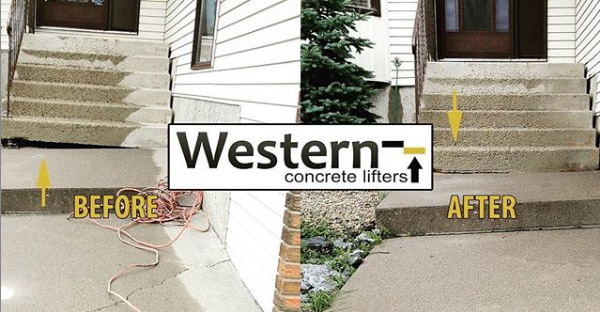 Concrete Repair Services
Here are some Concrete Repair Services that we offer;
Are you looking for concrete repairs in Calgary? Look no further!
Here at Western Concrete Lifters we have a 4.9 rating on Google, and we specialize in Concrete Repairs. Not only do we get the job done quickly & properly, our methods of concrete lifting or mudjacking is much cheaper than traditional concrete replacement.
Offering both residential and commercial concrete repair services, We can repair your steps, driveways, sidewalks, garage floors and more. Contact us today, and we can provide you with a free quote.
We can repair sunken and uneven driveways. In most cases, we can complete this project within 24 hours.
Your garage floor can sink due to air pockets beneath the ground. This can cause issues with accessing the garage.
Everyone likes to enjoy their porch and patios without the risk of tripping due to sunken concrete. We have solutions to bring your outside area back to its former glory.
Make sure that you and your visitors can access and walk around your property safely.
Failing stairs and steps can look unsightly, even more concerning is the safety risk that it causes for you, your family and visitors.
Concrete Repair Service Area
We are proud to not only serve Calgary but the surrounding areas, including; Drumheller, Chestermere, Airdrie, Cochrane, Black Diamond, Okotoks and High River
Concrete Repair Review
We are commited to offering a stellar service to all of customers. Operating with transparency and committed to providing an excellent service, we will make sure that your experience is a great one!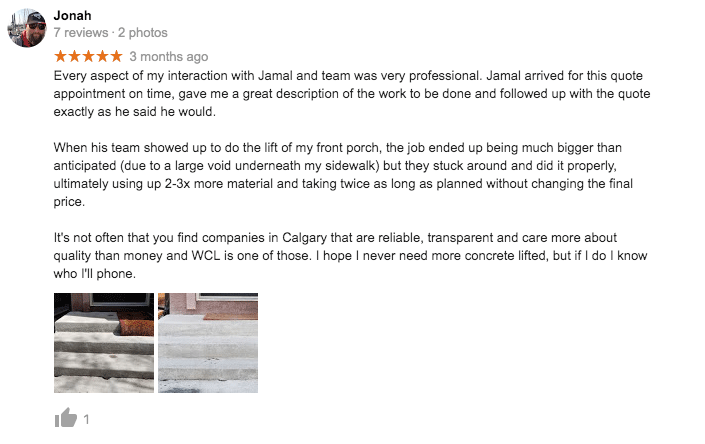 Get a quote today or call us at 403 723 0553